How to start with wet shaving
9.6. 2020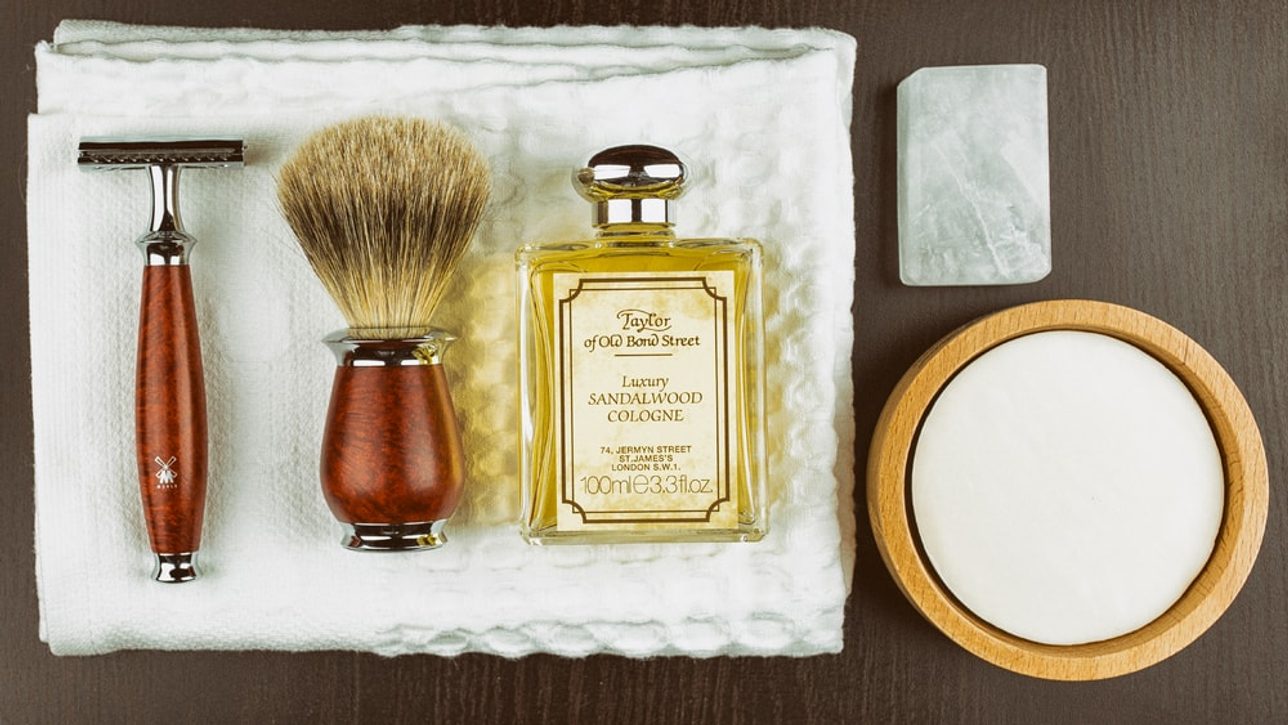 Wet shaving may be quite daunting for beginners. There are so many products and possible choices. This article will show you everything important to start.
It offers a simple and clear guide and a list for shopping.
1) Shaving cream or soap
Everything starts with a purchase of a suitable shaving cream (respectively shaving soap) and a shaving brush. There is a starting investment, but the use of shaving cream is cheaper and more ecological than pressurised cans with shaving foam in the long run. Amount of cream that is needed for each shave is surprisingly small. That may come as a shock after years of dealing with mountains of shaving foam. Single shave requires about as much shaving cream as brushing your teeth does toothpaste. Whipping up a lather for shaving every day is a great ritual and the quality of the lather, and consequently of the shave, is incomparable.
Shaving creams are perfect for less skilled gentlemen who are still learning how to whip the cream properly. Hard shaving soaps ask for a good eye to estimate the amount of warm water that is needed to add. Glycerin-based soaps are cheaper, but traditional ground soaps build the most full and velvety lathers.
2) Shaving brush
A good shaving brush is important for lathering soap or cream and getting it on your face. The quality of lather corresponds directly to the quality of your shaving brush. A great choice for beginners is badger, ideally pure badger or best badger – they are affordable and offer good quality. If you are satisfied, you may eventually upgrade.
We have written an article on how to pick a shaving brush that details their differences.
3) Razors
You may use disposable razors, at least you have a quality lather by this point and no one can take that away from you. But there is only so much you can do with strangely coloured and overpriced plastic razors. Soon you might realise you are not shaving up to your full potential. That's the right moment to buy your first classic safety razor.
Simple rule for beginners - choose classic closed-comb safety razor. It forgives mistakes in technique and isn't that harsh on the skin. Don't underestimate your pick of a razor blade, there are significant differences. Everybody is unique and so is their skin and hair. Unfortunately, there isn't a simple universal rule. The sharpest razor blade isn't the best choice for everyone. It might irritate some type of skin. Just try a few different ones, until you find one that suits you.
4) Aftershave balms and lotions
After your shave, you will need an aftershave balm or lotion. Balms are a good choice for people with dry skin, which they hydrate and calm. They have less pronounced aromas, that don't clash with perfumes. Aftershave lotions contain alcohol, which makes then antiseptic. They usually have a stronger scent. They are great at closing pores, but they might sting a little.
Expectations that perfect tools will bring will immediately result in the perfect shave are too high. Even the best pots can't cook your dinner on their own. Nobody became a professional on their first day. It might take a week, even a month. It's more than likely that you will cut yourself Don't panic. Alum sticks will sort it right out. These minor blunders will surely bring you ever closer to perfection.
I know that starting with wet shaving may be intimidating and choosing the right tools even a little confusing. Advantage of shopping at Gentleman Store is the help we happily offer. Even I had to start with wet shaving once and it was a lot of work. If you have any questions, please don't hesitate to ask.
Do you like what you're seeing? Share it!
Máte dotazy? Ptejte se, rádi odpovíme.
Dosud nebyly přidány žádné otázky. Ptejte se nás, rádi poradíme