Mühle R89 Closed Comb Chrome Plated Safety Razor
49.00 €
Sold out, available in:

4 Weeks

Let me know me when it is available.
Product added to bag
Free shipping for orders above 80 EUR.
20 000+ customers
90 days return policy
Razor of the renowned German Mühle brand with a traditional close head (close comb). Also suitable for beginners, the closed head is merciful and it forgives a shaky hand.

Length: 107 cm
Head width: 41 mm
Weight: 80 g

The package also includes one blade sample.

Made in Germany

 

Germany is reputed for many things - punctuality being one of them. That is also one of the reasons why Mühle has been the leading German manufacturer of high quality grooming tools for men. Up till now they are handmade to perfection and will add a distinct air of perfection to your everyday grooming rituals.
Learn more about it:
Related products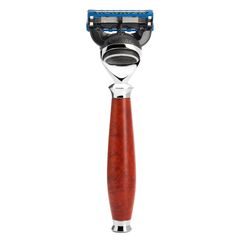 In Stock
129.00 €