Mühle Purist R55 Closed Comb Safety Razor - Birch
109.90 €
Skladem, doručíme ve čtvrtek 24. 6.
Product added to bag
Free shipping for orders above 80 EUR.
20 000+ customers
90 days return policy
Everything unnecessary is taken away, that's the motto behind the Mühle Purist line. This razor has a classic closed Gillette head for blades and especially a hand-varnished birch handle from the inhospitable Nordic areas. The birch grows very slowly there and it's basically just a shrub. Its wood has an unusually grainy and veined structure, which after finishing and lacquering becomes apparent. Metallic sleeves made of chrome.

You don't have to be afraid of classic shaving at all. It takes just a short introduction and you will be the best of friends.

Dimensions: 120 mm x 42 mm

Weight: 72 grams

The package also includes one blade sample.

Germany is reputed for many things - punctuality being one of them. That is also one of the reasons why Mühle has been the leading German manufacturer of high quality grooming tools for men. Up till now they are handmade to perfection and will add a distinct air of perfection to your everyday grooming rituals.
Related products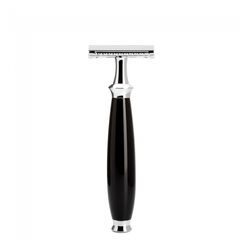 In Stock
79.00 €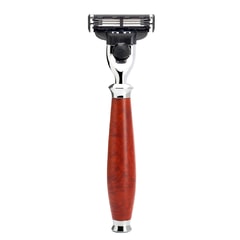 In Stock
89.00 €
109.00 €
Sale