Mühle R41 Open Comb Twist Safety Razor
49.00 €
Skladem, doručíme v neděli ne 11. 4.
Product added to bag
Free shipping for orders above 80 EUR.
20 000+ customers
90 days return policy
Mühle, that's a good German workmanship. This razor has an open head that is suitable for men with dense beards and for those who postpone shaving until they grow a full beard. When used properly, the foam will not be removed from the face by the head, but by the razor itself.

Chrome-plated design with roughened finish for a better grip.

Replacing the razor blade is done by unscrewing the bottom of the handle, which will release the head.

Length: 107 cm

Head width: 41 mm

Weight: 90 g

The package also includes one blade sample.

Made in Germany

Germany is reputed for many things - punctuality being one of them. That is also one of the reasons why Mühle has been the leading German manufacturer of high quality grooming tools for men. Up till now they are handmade to perfection and will add a distinct air of perfection to your everyday grooming rituals.
Related products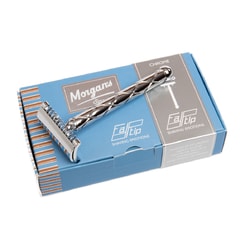 In Stock
34.90 €