How to clean and care for suede & nubuck shoes
20.7. 2020, Daniel Rufer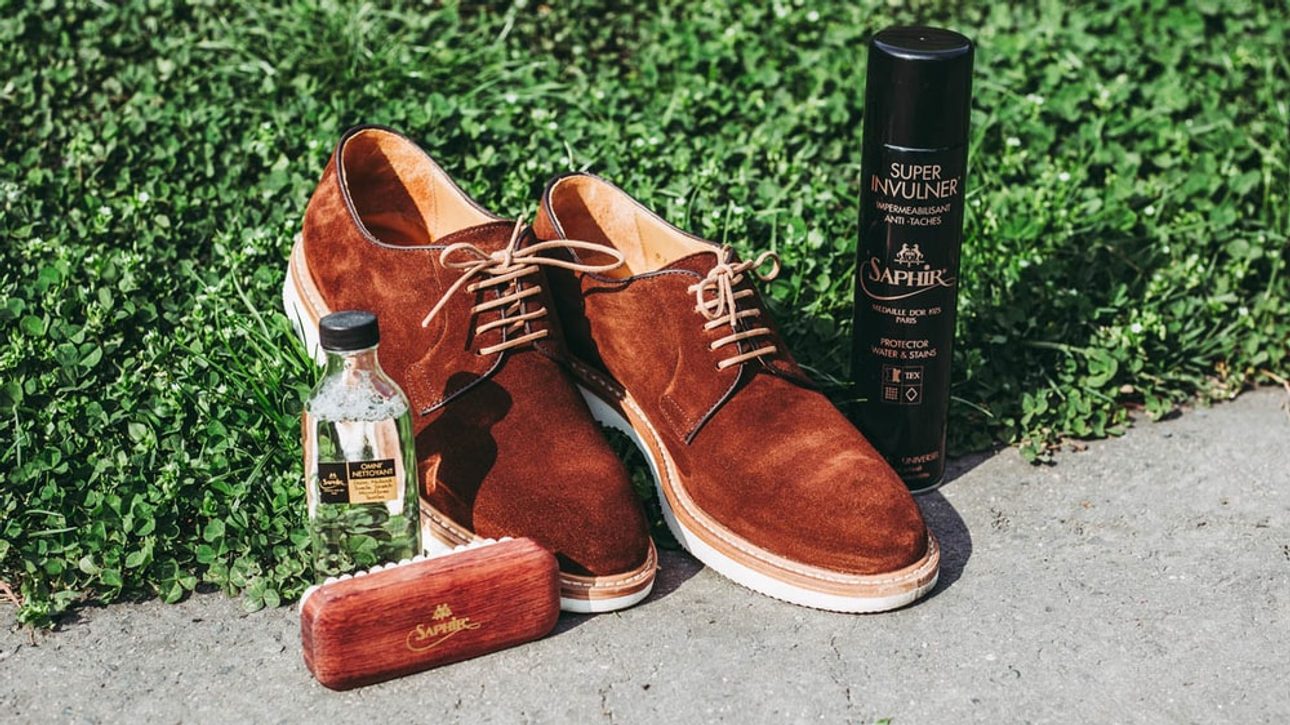 Suede and nubuck shoes don't have the best reputation. The rumor goes that they are only good for nice weather and that the first rain is going to ruin them completely. I don't know how this all happened and I would like to take this opportunity to make up for some of the bad press.
All of the information in this article come from personal experience. When I got my first suede shoes some five years ago (time flies by when you're having fun), I was getting the exact kind of advice I mention in the beginning. As a result, I tucked my precious shoes away for the first winter. If only someone gave me the tips I am about to give you now, I could've kept using them all year round and could spare myself the never-ending wait for the spring to come. So here we go, at last!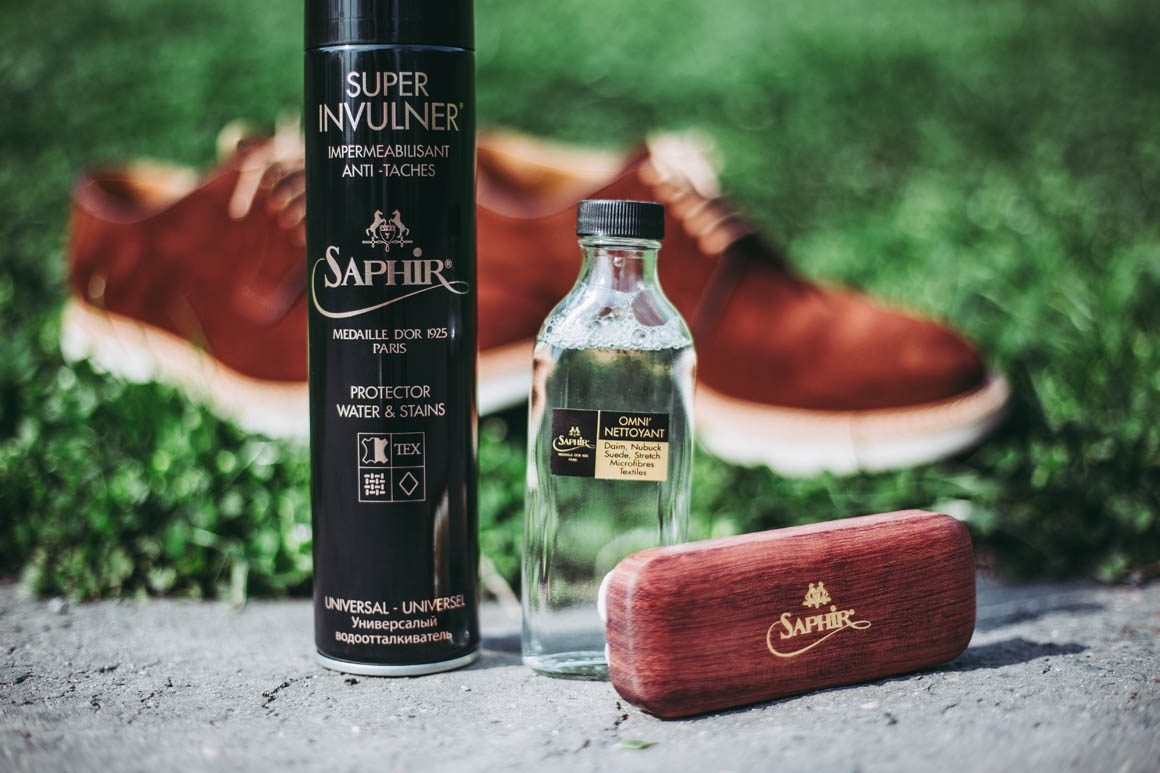 Waterproof, waterproof, waterproof
One can't even start with any other advice when it comes to suede shoes, since getting the right waterproofing spray really is the key. I even have a suspicion that those who have some bad experience with suede shoes just don't know how to care for them properly.
Properly treated suede/nubuck shoes repel water, which just slides harmlessly over the surface and leaves no damage behind. The same goes for dirt - if you use a high-quality waterproofing spray, it won't get ingrained into your shoes and all you'll have to do is clean them with a wet cloth. The spray shouldn't contain silicone, which would seal your shoes and would prevent them from breathing - it really is better to spend a few extra euros for something decent.
First step after getting a new pair of suede or nubuck shoes shouldn't lead to the woods, but rather to the hallway - to apply the waterproofing spray. Try to do that as evenly as possible, from about 20 to 30 centimeter distance. Repeat that based on the environment and frequency you wear the shoes in and with, roughly every 2 to 3 weeks - always on dry and clean shoes.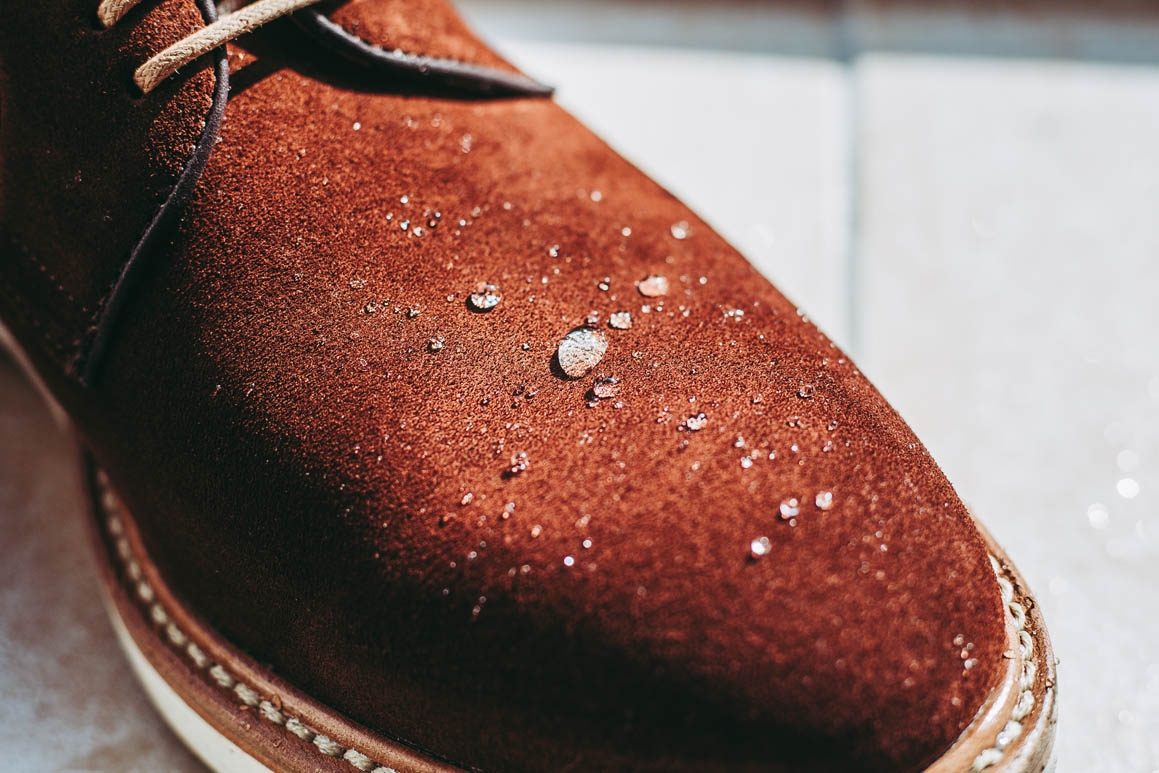 What if they get dirty in spite of your effort?
This brings us to the second common problem of suede shoes: that is when they actually do get dirty, be it because you forgot to waterproof them, somebody stepped on them, or you just treated yourself to a properly muddy trip.
First of all, you should wet your shoes properly. No, water isn't the enemy in this case. Use a clean wet cloth to pre-wash your shoes and get them rid of the biggest stains. You can use a special cleaning brush for suede shoes. After that you should apply some sort of a cleaning agent, preferably with a clean cotton cloth, and rub the shoes clean. When you've finished doing that, just rinse your shoes with lukewarm water. You can tell you've done a good job when there's no more foam forming up on the surface.
Then you need to let your shoes dry properly, ideally for 24 hours or more and with the cedar shoe trees inserted in them.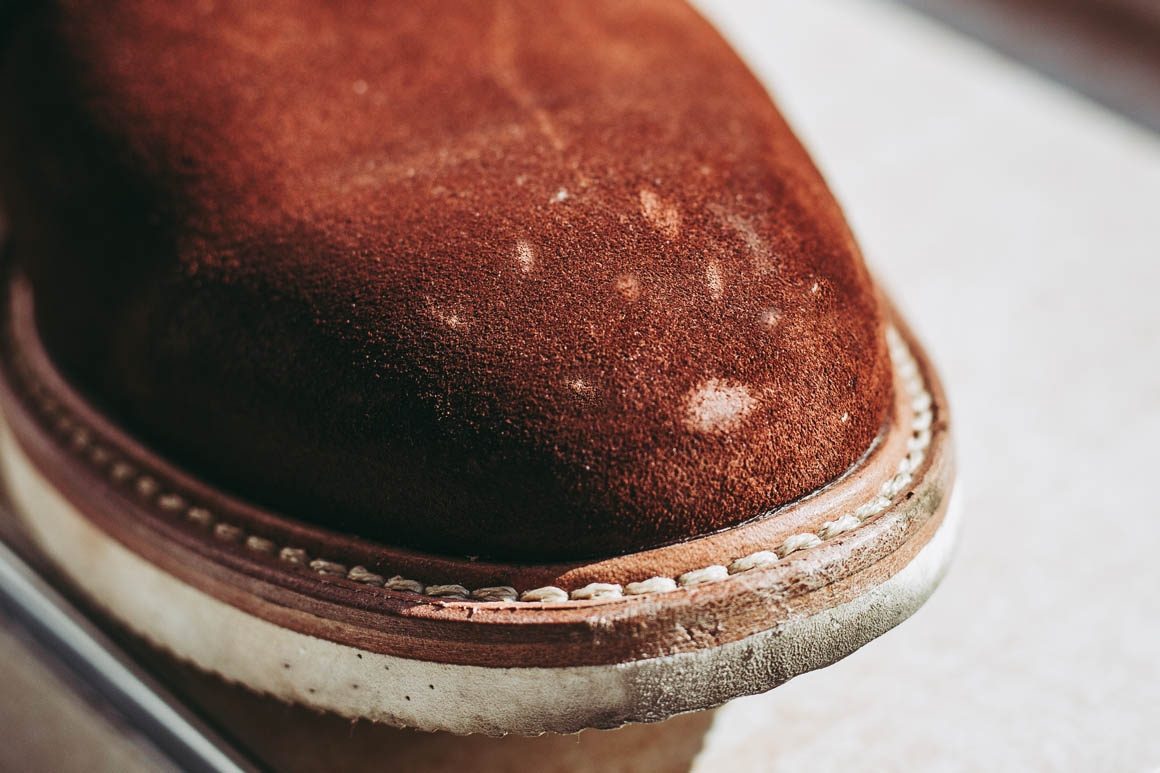 Get a proper suede brush
The beauty of suede lies in its fluffy surface, which probably took quite of a battering while you were trying to clean your shoes. That is why you should brush your shoes with a special suede brush once they're dry to restore the surface beauty.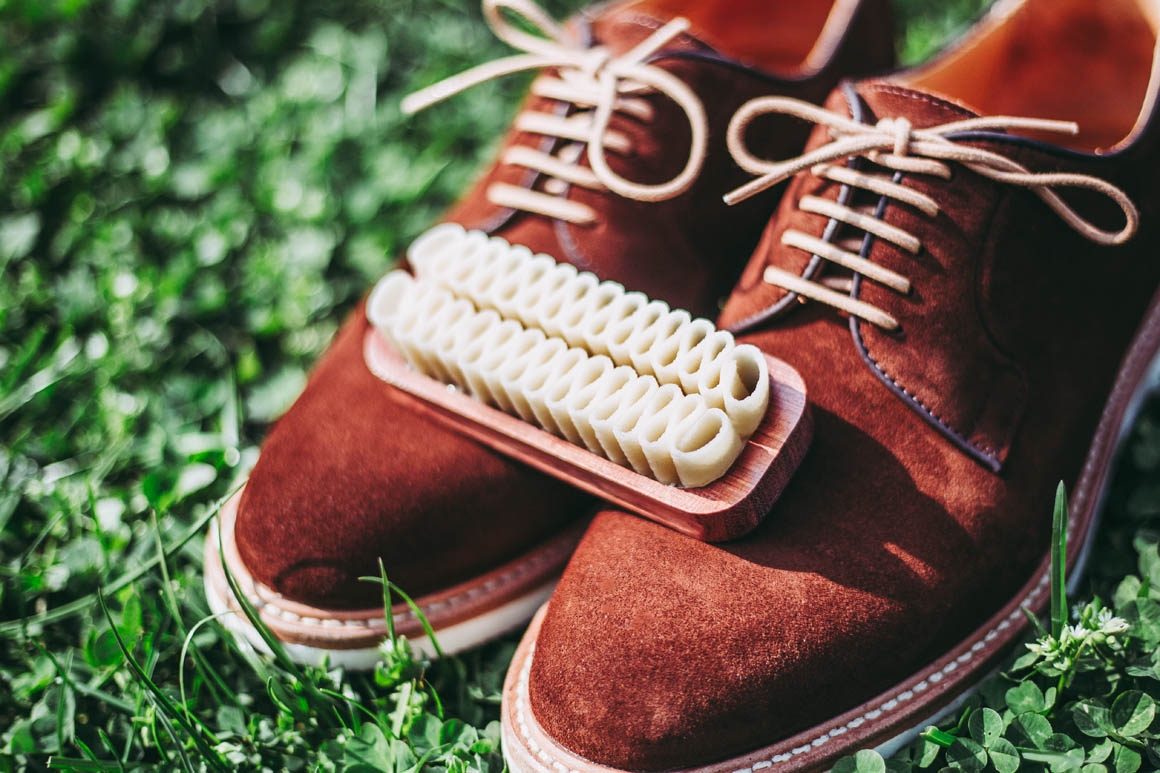 We all get older
And suede does too. One of thy symptoms is that it grudally loses its originally deep and distinctive color, which fades away slightly. This is why you shouldn't forget about providing your shoes with some nourishment. Natural preparation is again the way to go - we offer one that's colorless and another one with pigment added to it, which helps restore the original color.
Well, and that is it. It doesn't look that hard, what do you think?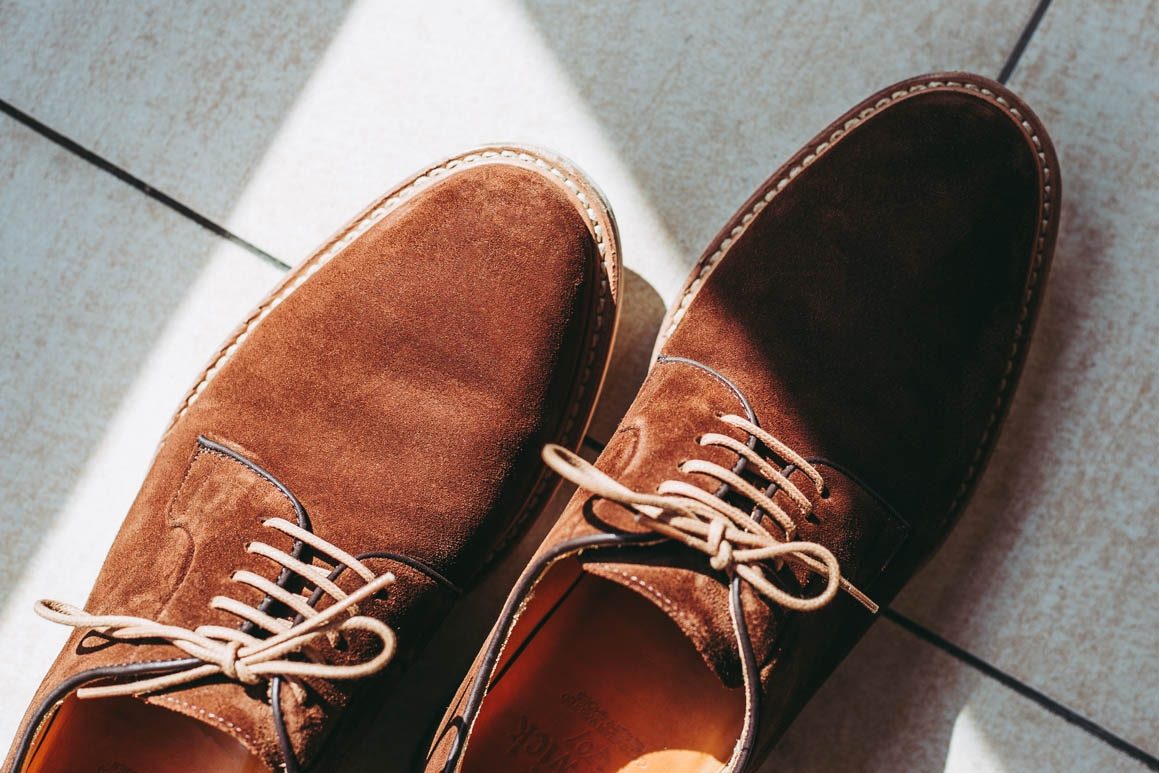 Do you like what you're seeing? Share it!
Máte dotazy? Ptejte se, rádi odpovíme.
Dosud nebyly přidány žádné otázky. Ptejte se nás, rádi poradíme