Morgan's Brazilian Orange Wooden Gift Box
64.90 €
Skladem, doručíme v úterý 18. 5.
Product added to bag
Free shipping for orders above 80 EUR.
20 000+ customers
90 days return policy
Beard AND hair smelling like Brazilian orange? Yes, they can. Thanks to Morgan's and this new wooden gift box.

Inside you will find:

Morgan's Brazilian Orange Beard Oil (50 ml)
It softens the beard, nourishes the skin underneath and provides the advertised orange scent.
Morgan's Brazilian Orange Low Shine and Firm Hold Pomade (100 g)
For all types and lengths of hair. It is gonna fix them in one place, plus it is completely matte and looks very natural. And because it is scented by Brazilian orange essential oil as well.
Morgan's Small Beard Brush
Wooden handle and a combination of boar & synthetic bristle.
Morgan's Moustache-Shaped Comb

Made in England

One of the oldest independent manufacturers of hair and beauty products in England, Morgan's Pomade was first founded in 1873. From their manufacturing facility at the beautiful seaside resort of Whitstable, in Kent, they have developed a wide range of hair and beauty care products with the emphasis on good quality and natural ingredients.
Related products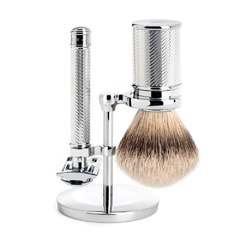 In Stock
159.00 €