Captain Fawcett Alum Bar (90 g)
9.90 €
Skladem, doručíme ve středu 14. 4.
Product added to bag
Free shipping for orders above 80 EUR.
20 000+ customers
90 days return policy
Alum is the basic aid that barbers have used almost since the beginning of time. This miraculous cube cleans and heals. If you have irritated the skin during shaving or if you managed to nick yourself, soak the alum in cold water and gently apply it to the incriminated places. Closes the pores and relieves irritation. It's that simple.

Weight: 90 g

According to an ancient legend Peabody Fawcett disappeared without a trace in the South American jungle more than a century ago. All that resurfaced was his grooming kit he used to take care of his mighty moustache. Now Captain Fawcett revives his legacy.

These English pros will be at your service at all times and will ensure that you "keep a stiff upper lip, regardless".
Learn more about it:
Related products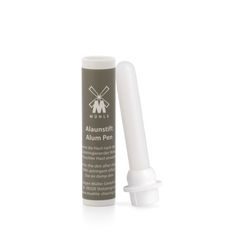 In Stock
6.90 €