Taylor of Old Bond Street Mach 3 White Razor
79.00 €
Skladem, doručíme v neděli ne 9. 5.
Product added to bag
Free shipping for orders above 80 EUR.
20 000+ customers
90 days return policy
The best of both worlds: the quality and tradition of Taylor of Old Bond Street combined with 21st-century Gillette Mach 3.

For all men who want to shave stylishly but don't want to lose the comfort of removable heads.

Made of ivory imitation in Victorian style. Just about the right weight and well balanced for the best shave.

Supplied in a paper box with the Taylor of Old Bond Street logo.

Length: 13.5 cm

Made in England

On the 1st of September 1854 Jeremiah Taylor, great-great-grandfather of the current proprietor of Taylor of Old Bond Street founded his own barbershop. He couldn't have possibly imagined that his herbal preparations would become a staple of quality for centuries to come and that his successors would keep perfecting them. Fun fact and something of a paradox about Taylor of Old Bond Street is that its shop is not even located on the Old Bond Street anymore, in 1930 it moved to the even more famous Jermyn Street.
Related products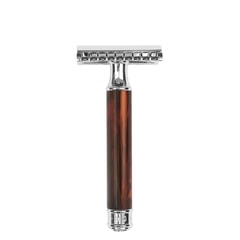 In Stock
39.00 €