Mühle Purist R59 Closed Comb Safety Razor - Briar Wood
99.00 €
In Stock, delivery in 3-5 working days
Product added to bag
Free shipping for orders above 80 EUR.
20 000+ customers
30 days return policy
Everything unnecessary is removed, such is the Mühle Purist line. This razor has a closed head for classic blades and a breathtaking handle. It is made of giant heather, which grows predominantly in the Mediterranean. Especially those of you who like quality pipes will know it. The wood undergoes an unusually difficult treatment process, during which it is first boiled to get its characteristic red color. Afterwards, the best pieces are selected by hand, and they undergo sanding, manual staining and final lacquering. Every piece is therefore unique. 

Sleeves are made of chrome.

Dimensions: 120 mm x 42 mm

Weight: 72 grams

The package contains one blade.

Germany is reputed for many things - punctuality being one of them. That is also one of the reasons why Mühle has been the leading German manufacturer of high quality grooming tools for men. Up till now they are handmade to perfection and will add a distinct air of perfection to your everyday grooming rituals.
Related products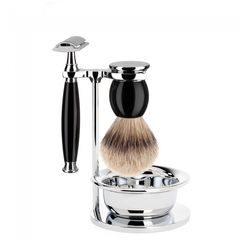 In Stock
249.00 €
In Stock
39.00 €
Value for money