Kent Natural Bristle Beard Brush
29.90 €
In Stock, delivery in 3-5 working days
Product added to bag
Free shipping for orders above 80 EUR.
20 000+ customers
30 days return policy
In Kent, they produce the finest brushes and use their brains while doing so. Not like some brands that take a hair brush and just change the label. That would be low. This on the contrary is the most sophisticated beard brush ever made.

Let's start with the handle. It is curved, so you really massage your face with your bristles instead of your fist. Plus you can see what you're about to brush much better. It also reminds one of an old gun handle, which is the most manly thing it can remind one of.

Another thing – bristles. No synthetics, but the highest natural quality and precisely chosen stiffness. It can deal even with the hardest beard, but it won't peel the skin of your face. In addition, they are cleverly shaped.

How to use?

Longer bristles should always be up. Brush from top to bottom. It is easy to recognize if you do it the wrong way. The brush will just pass over your face and it won't do much work. It is even easier to recognize when you do it the right way 

Your beard deserves care and love, just like all other living beings. Nourish it, wash it, and take care of it, it'll pay you back a hundred times.

Handmade in England

Some companies boast of being on the market for 10 years and call it a tradition. Kent Brushes has been there for more than 200 years. This family-owned British company produces handmade combs and brushes of impeccable quality for a reasonable price. They source their bristles from reliable partners in India and China and their wood from sustainably grown forests all around the world.
Learn more about it:
Related products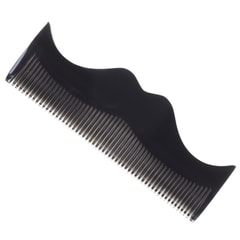 In Stock
8.90 €