Taylor of Old Bond Street Shaving Cream - Grapefruit
6.11. 2019, Daniel Rufer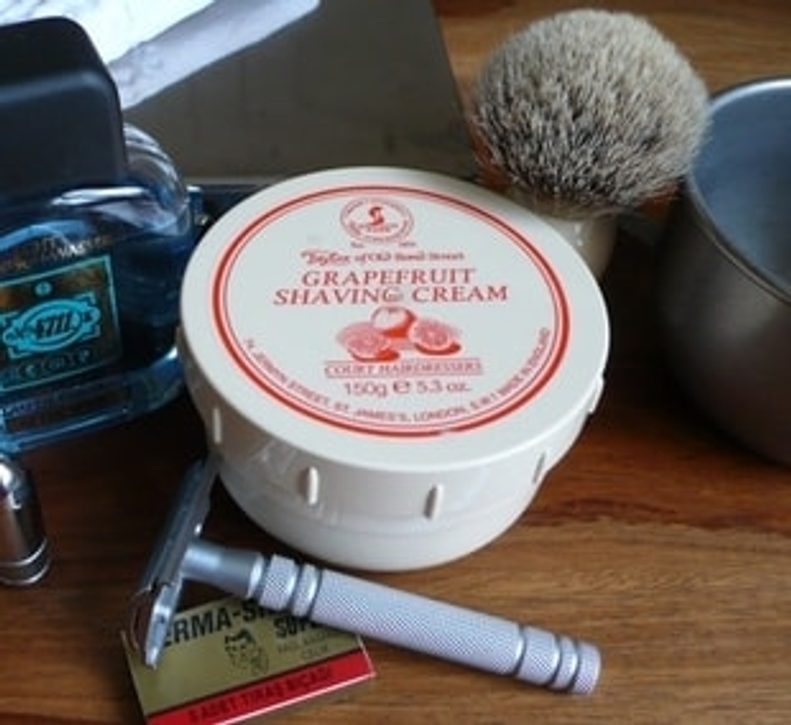 This review was written by Mr. Tomáš Jelínek.
Shaving creams from London barbershop Taylor of Old Bond Street come in a robust plastic bowl with twist-off cap (that ought to survive any random fall on a bathroom floor). The bowl fits nicely into one's hand and the cap is easy to twist off even with wet hands. One holds 150g of shaving cream.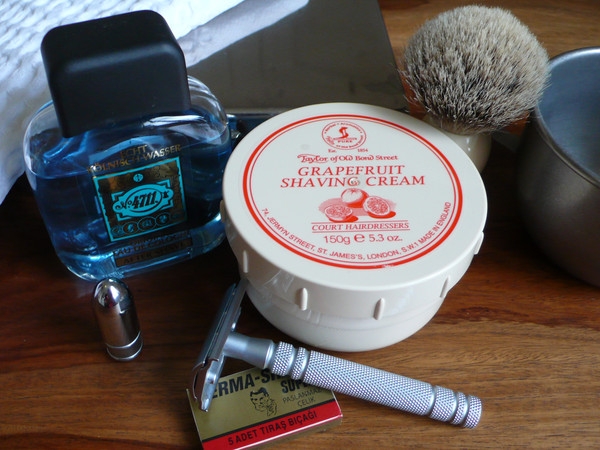 This cream has an amazing fragrance of grapefruit with a hint of lemon grass and light floral notes. Aroma is refreshing as excellent lime sorbé in a garden on a warm summer eve and application of the cream gives you a pleasant cooling sensation that is impossible to achieve with a shaving foam or gel.
Cream is easy to whip up into thick and creamy lather that is stable and can be loosened with a drop of water. It softens facial hair nicely and provides good lubrication, but you can use a shave oil before or whip it into the lather for even better results. Though no oil was used during testing and shaving yielded very satisfactory result.
If you like bittersweet tastes and aromas and want to enjoy extraordinary shave, I wholeheartedly recommend Taylor of Old Bond Street Grapefruit Shaving Cream.
Ingredients as listed by manufacturer: Aqua, Stearic Acid, Myristic Acid, Potassium Hydroxide, Coconut Acid, Glycerin, Parfum, Triethanolamine, Sodium Hydroxide, Benzyl Alcohol, Methylchloroisothiazolinonee, Methylisothiazolinone. Paraben free.    
Packaging 9/10
Aroma 10/10
Lathering 9/10
Stability of Foam 8/10
Hydration 8/10
Lubrication 8/10
I used shaving brush Mühle K257 Silvertip Badger and Tweezerman HIS to create the lather and Feather AS-D2 (All Stainless Steel Double Edge Safety Razor) and Gilette "Slim" Adjustable (1966) with Perma-Sharp Super and Derby Extra razor blades to shave.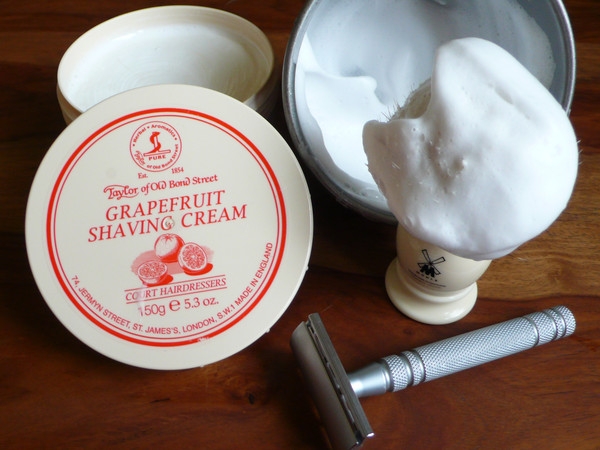 Do you like what you're seeing? Share it!
Máte dotazy? Ptejte se, rádi odpovíme.
Dosud nebyly přidány žádné otázky. Ptejte se nás, rádi poradíme