Buying a suit? Keep these 5 things in mind
21.7. 2020, Daniel Rufer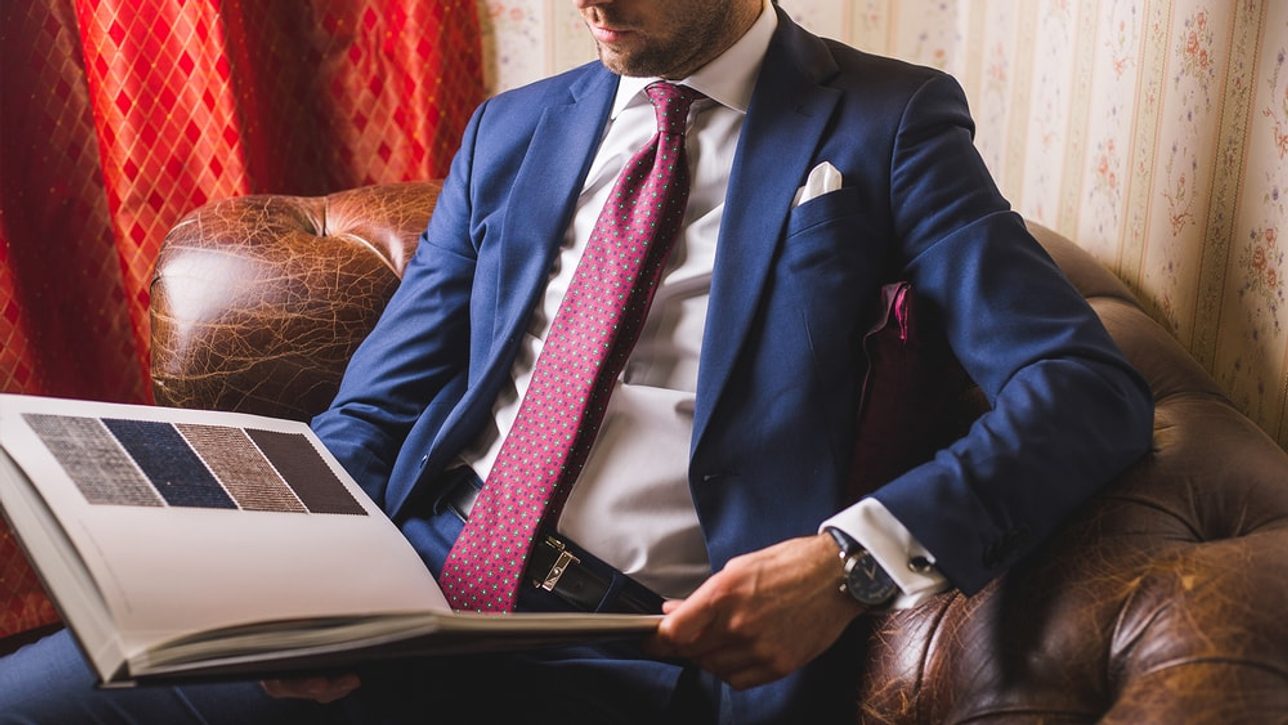 When a suit doesn't fit right, it shows. And it shows a lot. Since you probably don't want that to happen, we have put together a list of 5 things to keep in mind when picking the right suit size.
Touch the shoulders
There is not much even a really good tailor can do if the jacket doesn't fit your shoulders, which is why getting the right fit there should be your main point of concern. You can find it out easily - by touch. Do the shoulder pads end at the same place your shoulders do? Is there no space between the end of your shoulders and the shoulder pads? Does the fabric fit right without stretching at the collar? Then you have found the right fit.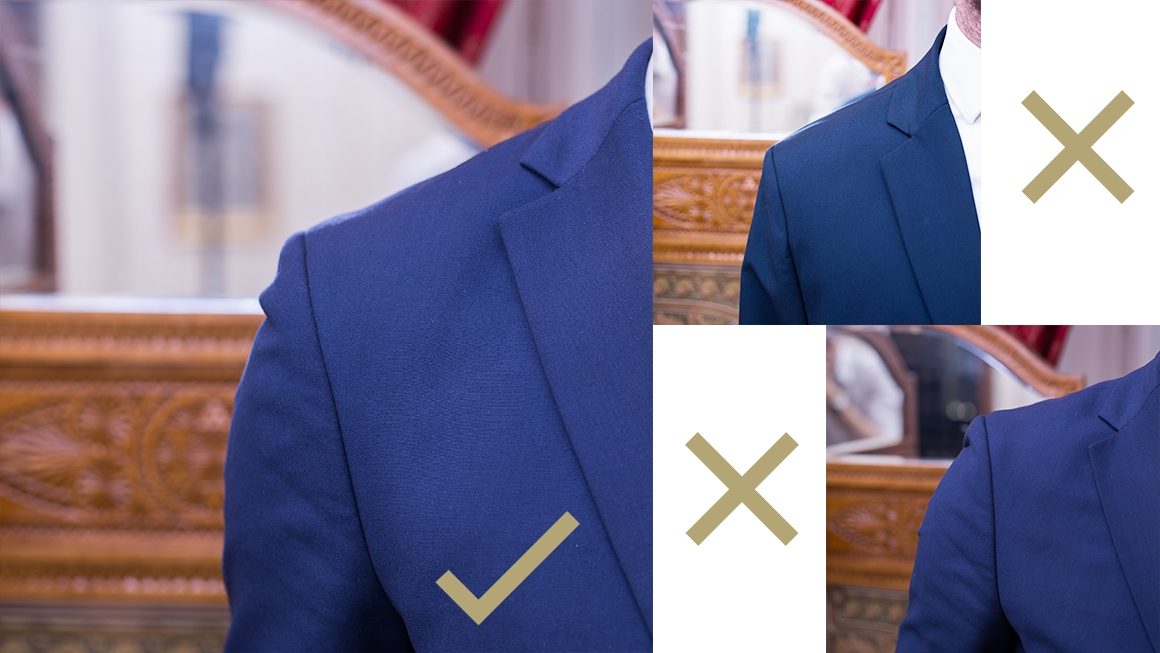 You should also check the sleeves connection, which shouldn't visibly crease. 
Sleeves length
Altering the sleeve length is a tad bit easier, if you don't try to shorten it by more than 4 centimeters. Shortening it by more than that might lead to you losing one of the buttons. Shortening jackets with functional button cuffs may be a bit more demanding - in an ideal world one should do that by shortening the sleeves at the shoulder, not at the end, since you can't just resew the buttons a bit higher. The not ideal approach (one which would only work when shortening the sleeves by just 1 to 4 centimeters) is to shorten it at the ends.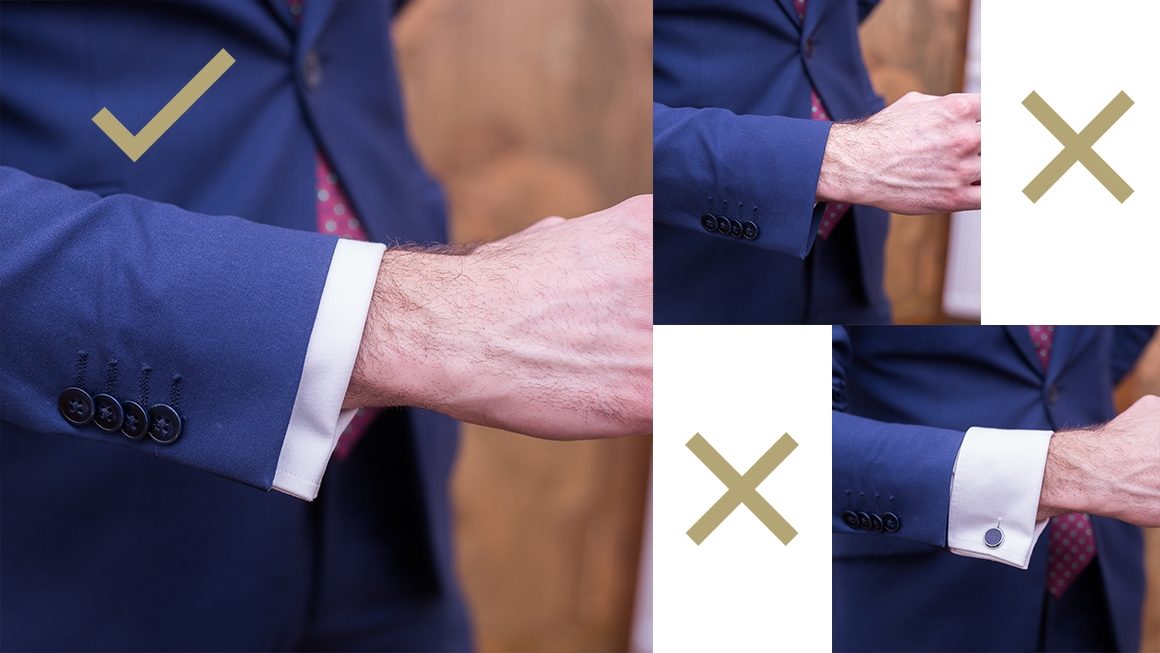 The jacket's sleeve should end at the wrist edge, so that it shows about 1.5 cm of your shirt's cuff. Never let the jacket to cover the cuff completely.
No collar gap
It is your posture that partially defines how your jacket's collar fits. If you don't stand up straight, a small collar gap might form. You can solve that by trying another brand of suits, or just a different fit.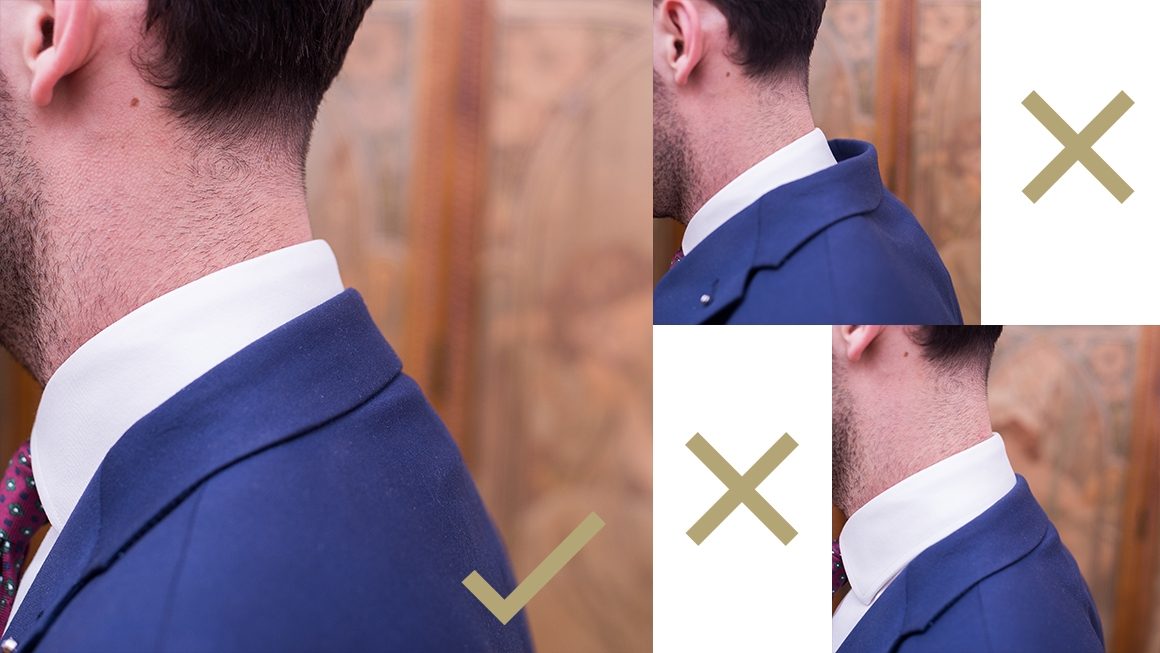 The collar shouldn't leave any space between itself and your neck.
Jacket length
It may seem self-evident, but your jacket should cover your bottom, to put it politely. These days, however, the modern fits tend to be shorter, with some jackets ending at the belt, which doesn't always look very good.
To sum it up again: your jacket should cover the parts you don't want to show.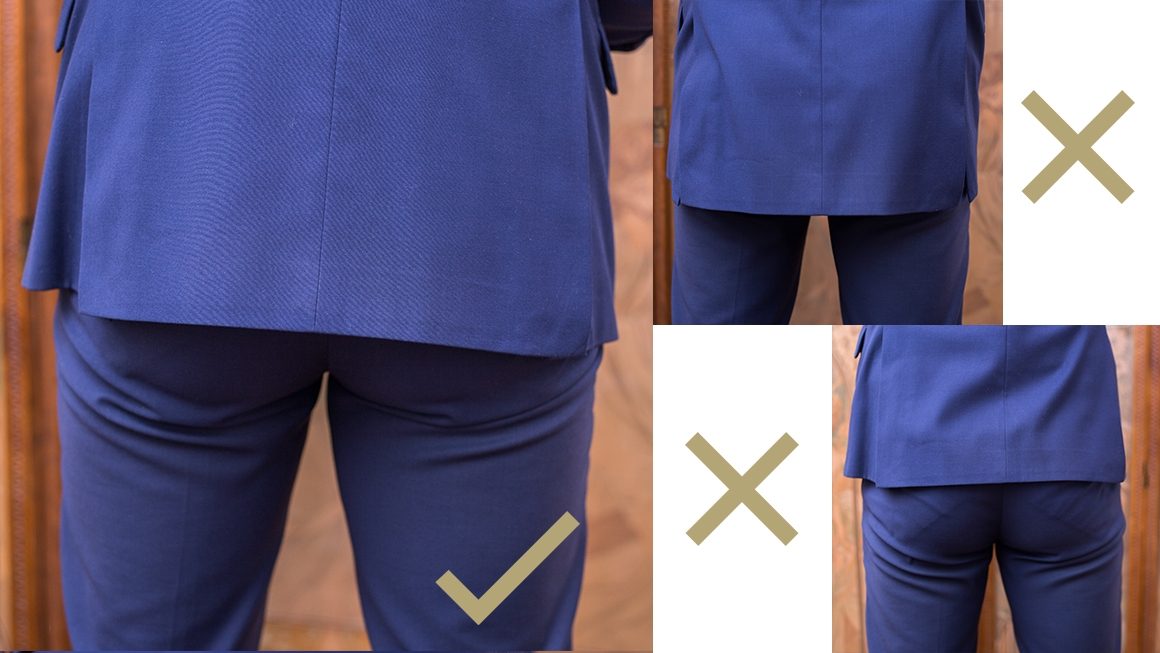 Full break, or...
The opinions vary when it comes to the length of the trousers. Most people have to shorten or narrow down their trousers anyway, for they don't usually fit straight away. 
The most conservative option is the full break. That means that the trousers close right above the rear top end of your shoe and only fold once at the front. This usually works better with wider fits. Never ever should your trousers cover the entire shoe.
Another option is the medium break, that is quite popular these days. The trousers only fold a little at the front, ergo they are a little shorter, but still alright. This fit works well with narrower fits, which makes it a safe choice for formal and more casual suits alike.
The extreme option is the short break - with no fold at the front at all, as slimmed down as possible. Doing that means your shoes will play a more prominent part.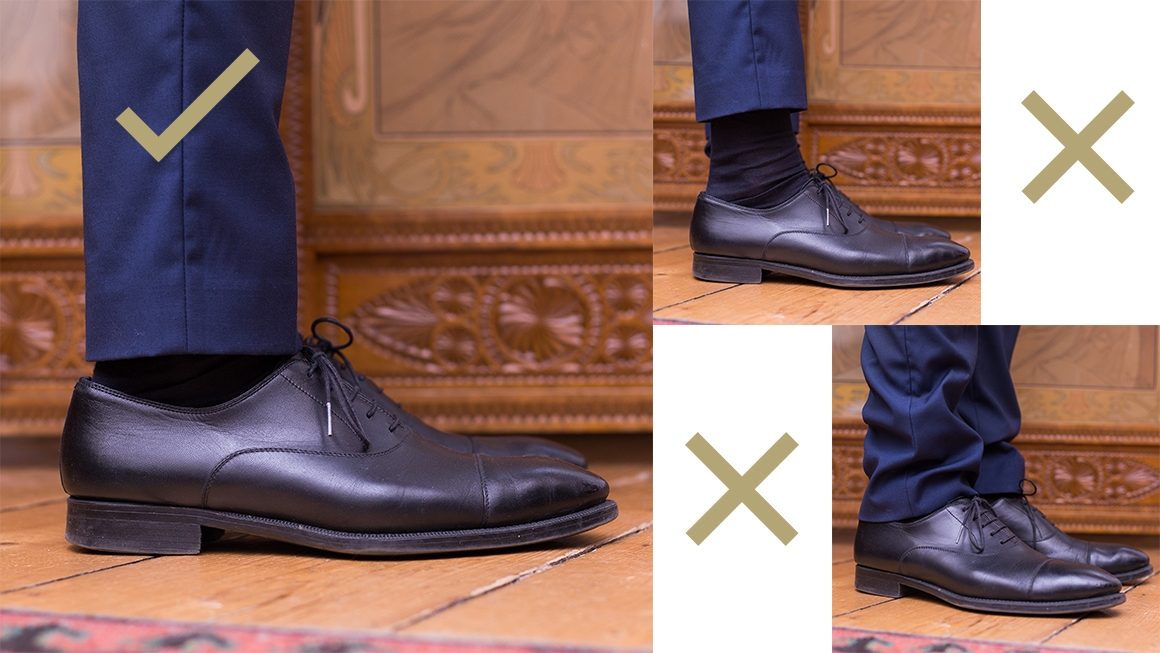 To sum it up
Getting an off-the-rack suit that fits right is not an easy task, plus it won't usually do without some alterations, unless you have a truly standard body shape.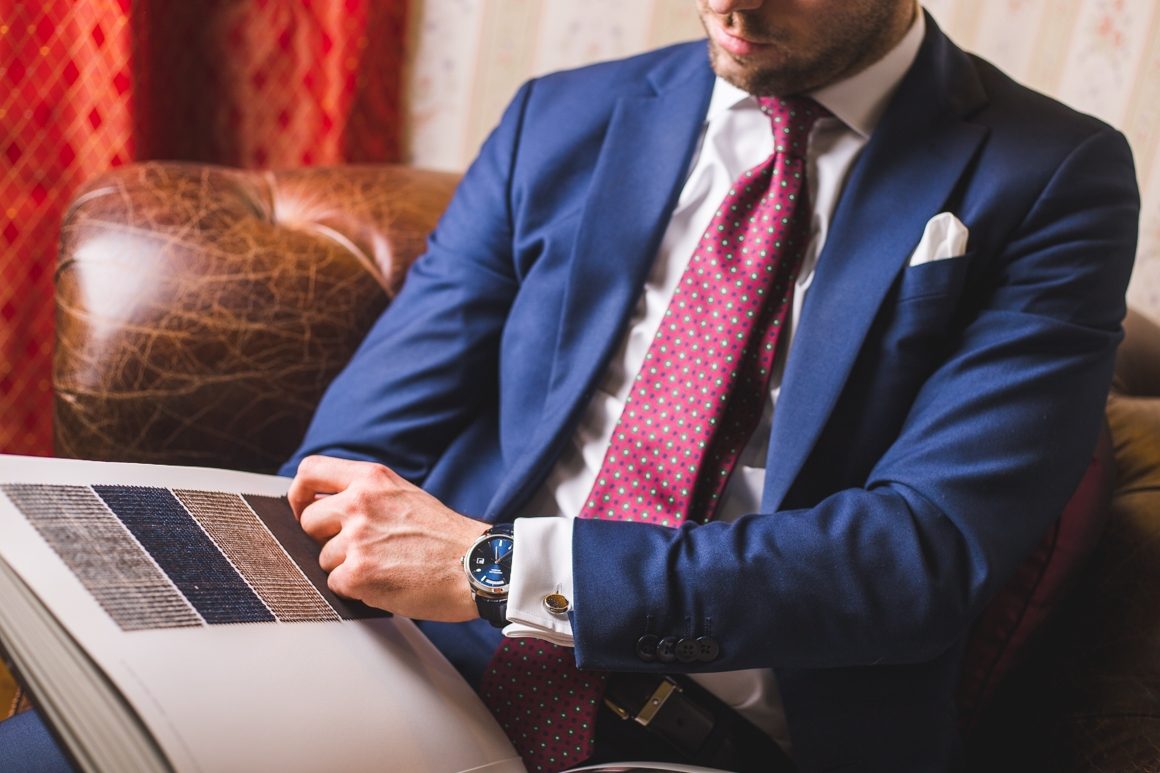 Some final tips to wrap it up with: always check the material. Once you see the PES abbreviation on the label, it usually means the suit is made of polyester - you should run as far away from the shop that offers it as possible. Proper suits are made of natural fabrics, with wool and cotton being the two most common. They are a pleasure to wear, plus they're breathable - something you're going to enjoy once it gets warm outside. For a full-on summer suit, try going with linen.
You should also try to look for whether the shop assistants know what they're doing - unless they can offer some advice and reasonably judge your size, it would be better to go look somewhere else.
Do you like what you're seeing? Share it!
Máte dotazy? Ptejte se, rádi odpovíme.
Dosud nebyly přidány žádné otázky. Ptejte se nás, rádi poradíme