7+1 shirts every gentleman needs
26.7. 2020, Daniel Rufer
Shirts form the foundation of every well-dressed gentleman's wardrobe and yet many underestimate their importance, paying attention to just shoes and suits which is a bit of a shame. With a fine shirt, half the battle for a nice outfit is already won. We have chosen 7 essential shirts, that should be found in every gentleman's attire. Plus we've thrown in one extra summer tip for discerning customers. 
#1 White

A white cotton shirt with very no visible texture and no pattern, regular spread collar and button cuffs. An essential shirt that looks good everywhere every time - whether it's under a suit or with classic blue jeans.
#2 White with stripes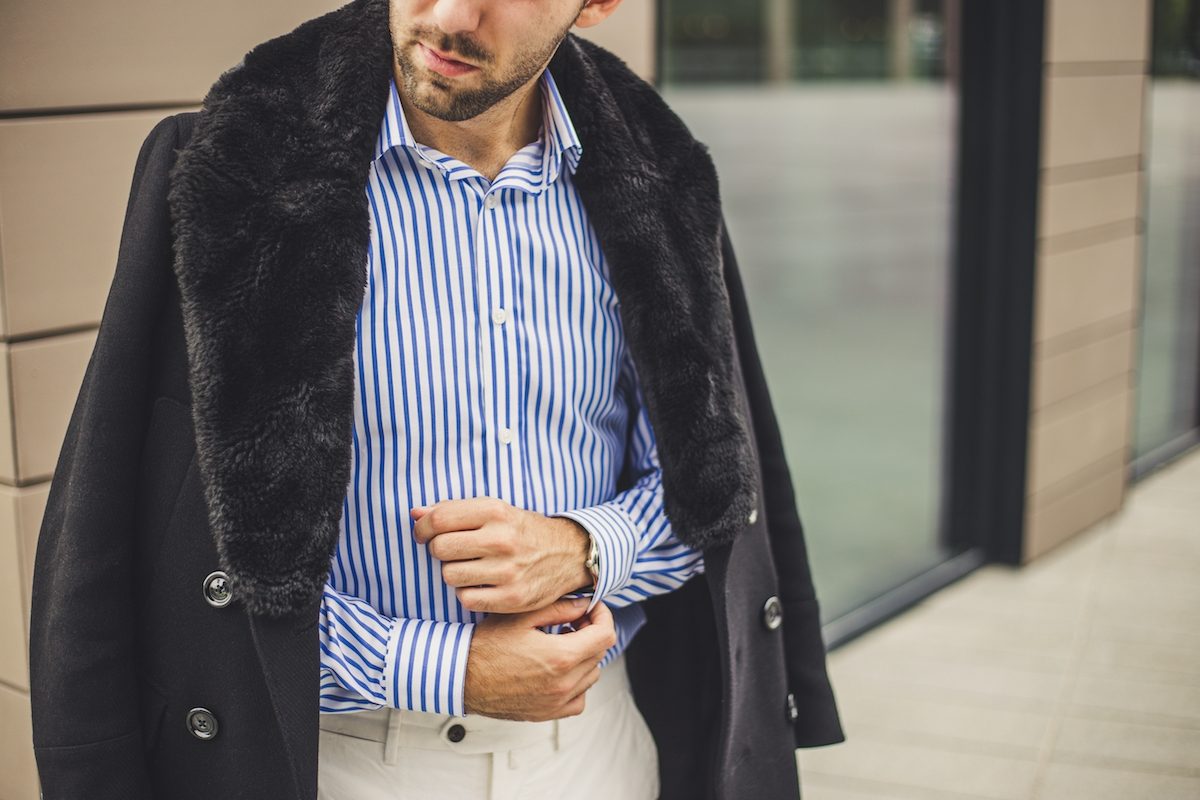 White shirt with stripes adds another pattern and a little colour to your whole outfit. Even though these shirts are less formal than plain whites, they still fit very well with suits. Start with thinner stripes, regular stiff collar and button cuffs - we recommend avoiding too extravagant pieces for now, there will be plenty of time for that later. 
#3 White with French cuffs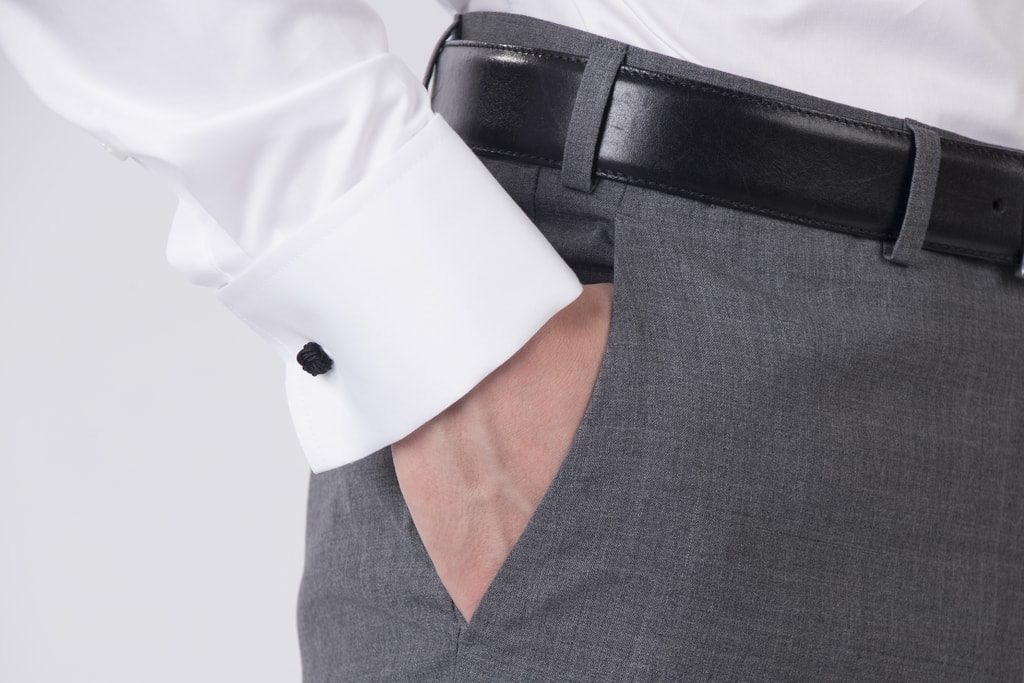 There are situations when a white shirt with button cuffs feels inadequate. On a few occasions - e. g. theatre, wedding, important business meeting - you might need something more formal. That's where French cuffs come in. You need to fasten them with cufflinks which might be men's most striking piece of jewellery. They range from less formal cotton knots to more formal metal ones - the only limit is your imagination. And the colour of the shirt? White, my dear Watson.
#4 White with pattern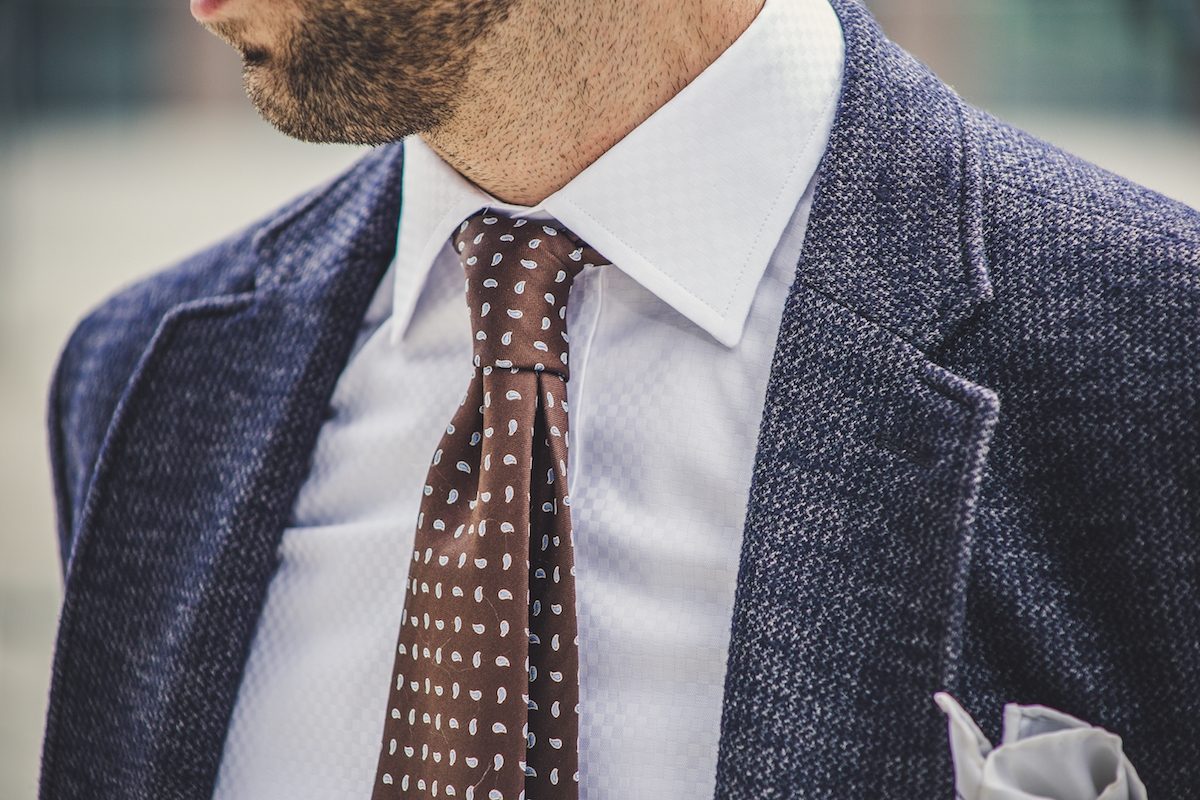 Simple white shirt from afar, White shirt with a beautiful fine patter from up close or an angle. It's a less formal shirt that white one but it's also more fun. It will give your whole outfit a gentle lift. Ideally combined with button cuffs and regular spread collar. 
#5 Light blue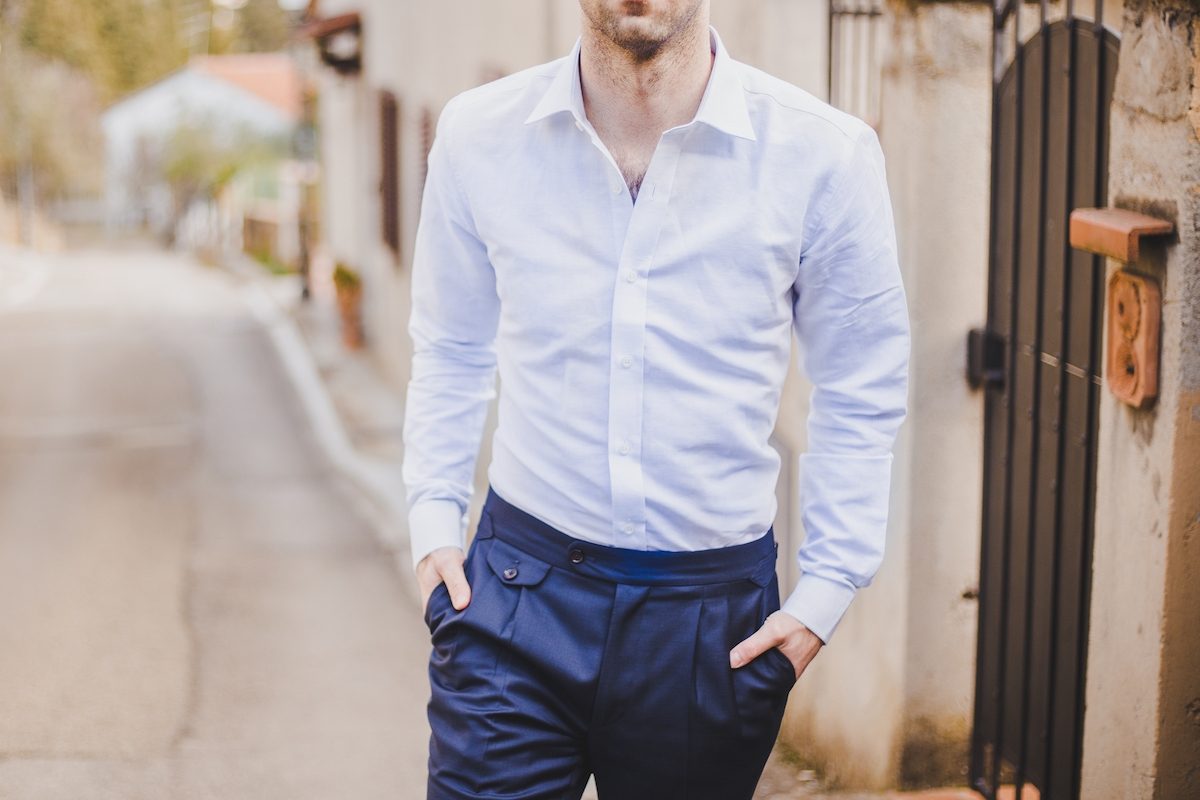 Light blue shirt with button cuffs, regular spread collar and no pattern. It fits under a dark blue suit and summer party with a grill alike - a truly versatile piece of clothing. There are usually quite a few shades of light blue so you can pick the right one just for you. Regular spread collar and button cuffs keep the shirt accessible and genuine. 
#6 Checkered
¨
This shirt is most likely the least formal of all previous ones. The base should be white but the size and colour of checkers are solely up to you. The general rule states: bigger checkers mean a less formal shirt. It fits well with a blazer or on its own.   
#7 Button-down Oxford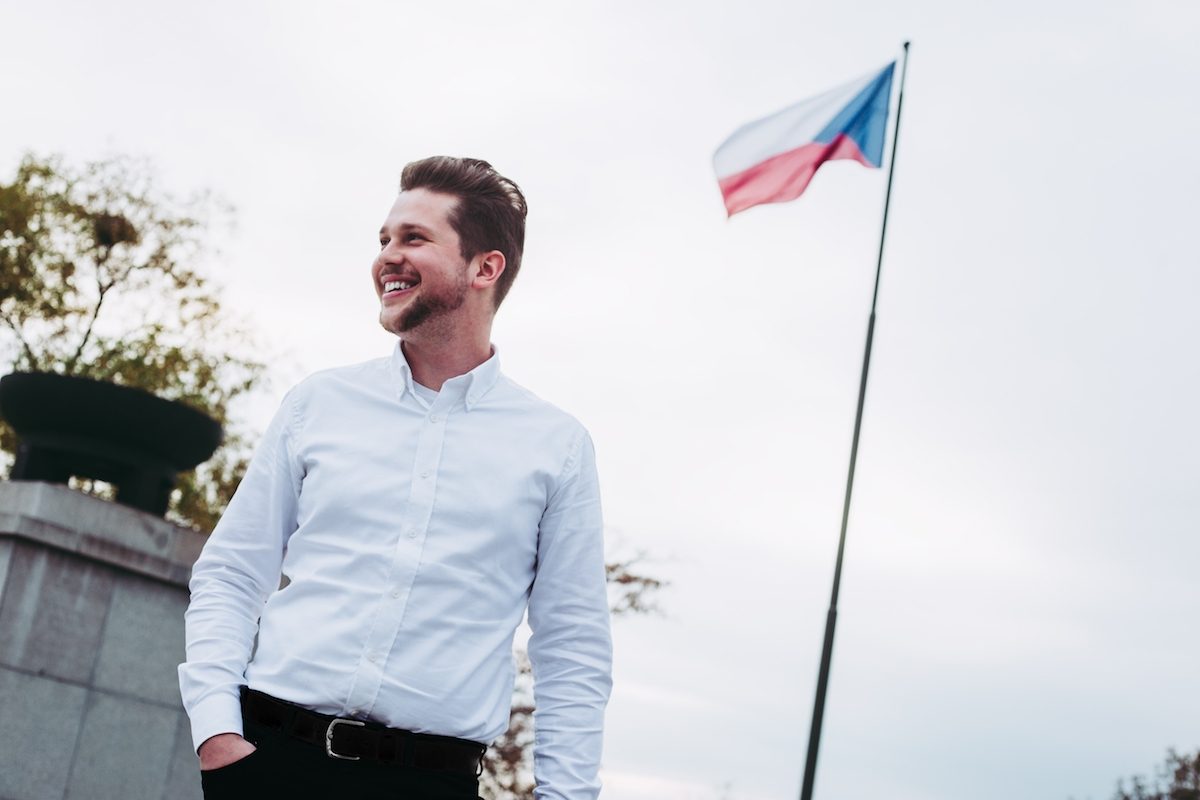 White or light blue Oxford shirt is popular among star students of elite schools and others alike. Oxford weave is denser and very pleasant to wear even during colder months. Button-down collars are soft and without stiffeners. This informal shirt fits excellently with chinos or jeans and just as well with a casual blazer. In Europe, it's traditionally worn without a necktie.
#8 Summer linen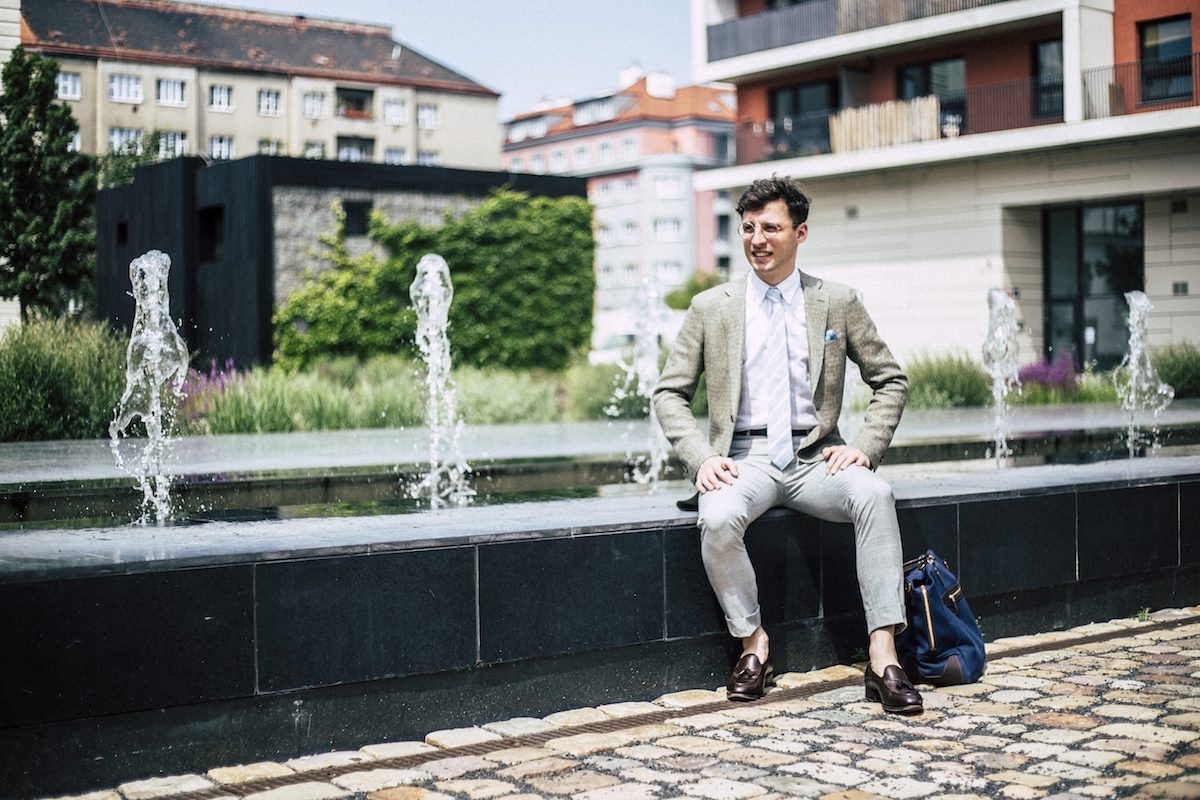 Our last stop is linen. Linen shirts are tragically underappreciated even though they are very versatile and pleasant to wear. You will enjoy their breathability in the summer months which are their main season. Linen is pleasantly cooling on the skin and one doesn't sweat as much. And during winter, sweaters and blazers layer beautifully upon a linen shirt. We include several shirts from a blend of linen and cotton (pure linen wrinkles too much and some find it too coarse) in every summer collection. We recommend lighter colours because darker show more sweat stains.
Do you like what you're seeing? Share it!
Máte dotazy? Ptejte se, rádi odpovíme.
Dosud nebyly přidány žádné otázky. Ptejte se nás, rádi poradíme