Marvis Cinnamon Mint Toothpaste (85 ml)
8.90 €
In Stock, delivery in 3-5 working days
Product added to bag
Free shipping for orders above 80 EUR.
20 000+ customers
30 days return policy
Luxury toothpaste in a tube referring to good old times and metallic tubes of oil paint. Exotic cinnamon sweetness and a refreshing taste of menthol – a perfect combination. It will bring style to activities where you wouldn't have expect it – tooth cleaning.

It contains significantly less fluoride than conventional toothpastes. For pure white teeth, fresh breath and the prevention of tooth decay, tartar, and plaque.

Volume: 85 ml

Made in Italy

Marvis surpasses the traditional concept of a toothpaste. This Italian brand had one goal in mind: to create an iconic and unusual toothpaste with flavors far more interesting than just plain mint. Combined with a neat old-style packaging and branding and a lowered fluoride content they will produce one hell of a healthy smile.
Related products
In Stock
9.90 €
Luxury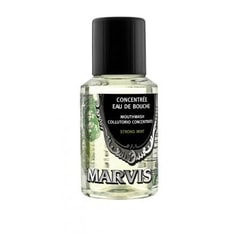 In Stock
4.90 €
In Stock
8.90 €
Recommended