Marvis Amarelli Licorice Toothpaste (85 ml)
8.90 €
In Stock, delivery in 3-5 working days
Product added to bag
Free shipping for orders above 80 EUR.
20 000+ customers
30 days return policy
Luxury toothpaste in a tube referring to good old times and metallic tubes of oil paint. In collaboration with the Italian company Amarelli, which has been producing licorice since 1731, an elegant toothpaste has been created combining the pure and seductive flavor of licorice and the freshness of menthol. It will bring style to activities where you wouldn't have expect it – tooth cleaning.

It contains significantly less fluoride than conventional toothpastes. For pure white teeth, fresh breath and the prevention of tooth decay, tartar, and plaque.

Volume: 85 ml

Made in Italy

Glycerin, Aluminum Hydroxide, Aqua (Water/Eau), Silica, Aroma (Flavor), Cellulose Gum, Titanium Dioxide, Xylitol, Sodium Lauryl Sulfate, Sodium Saccharin, Sodium Fluoride, Sodium Citrate, Citric Acid, Eugenol, Limonene, Cinnamal, Anise Alcohol.

Marvis surpasses the traditional concept of a toothpaste. This Italian brand had one goal in mind: to create an iconic and unusual toothpaste with flavors far more interesting than just plain mint. Combined with a neat old-style packaging and branding and a lowered fluoride content they will produce one hell of a healthy smile.
Related products
In Stock
8.90 €
Recommended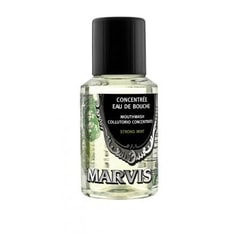 In Stock
4.90 €