Light Merino Jumper John & Paul - Grey (V-neck)

Free shipping for orders above 80 EUR.

20 000+ customers

90 days return policy
Product description
Our very own comfy and fitting grey V-neck jumper crafted from 100% soft merino wool. 
Reviews
About brand
John & Paul is our very own brand named after its two founders. Our journey began in 2014 when we first met. Soon afterwards we discovered that we had a similar problem - with both of us having been quite slim, most ready-to-wear shirts made us look like a parachute. So we rolled up our sleeves and decided to do something about it. We decided to create our very own sizing system that would fit men who are either too slim or too tall for regular off-the-rack shirts. Our similarly built friends had helped us perfect the sizing and after a year of preparations we were ready to go.
It has been a while since then. We still make high-quality shirts, but we have by no means been idle. As of now we also make perfect T-shirts, polos, briefcases and have our very own line of Italian accessories such ties or pocket squares. And that is just the beginning.
In the not-so-distant future we would like to dress you guys from head to toe. Therefore creating our very own jumper most certainly is a step in the right direction. We could not go with other material than merino wool, which is famed for its softness, breathability, temperature regulating properties and last but not least for the fact that it barely ever creases, something us men appreciate a lot. As usual we have also created our very own sizing system that results in a great fit - great enough for the jumper to be worn over a shirt.
V-neck
100% extra soft merino wool
Universal grey color
Well-thought-out and well-fitting sizes (slim fit)
Perfect over a shirt, it doesn't stretch over time
Crease-free
Care instructions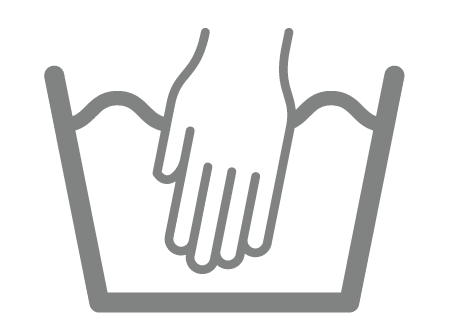 It's best to wash your jumper in lukewarm water so that it keeps it charm for a long time. You can machine-wash it as well, but only using the hand wash program. Given the fact that washing machine is somewhat of a devil's tool for most men, please look for the symbol on the left - that is how the hand wash program should be marked.