Taylor of Old Bond Street Sandalwood Shaving Soap - Stick (75 ml)
14.90 €
Skladem, doručíme v neděli ne 11. 4.
Product added to bag
Free shipping for orders above 80 EUR.
20 000+ customers
90 days return policy
Taylor of Old Bond Street shaving soap, a classic English brand with more than a hundred years of tradition. Ideal travel package in a practical tube, easy to screw out, just like a deodorant. To lather up, you only need to apply the cream directly on your face and then whip it up with your shaving brush.

Classic men's scent with the main tones of nutmeg, lavender, rosemary and amber, supported by carnation, ferns and orange blossoms on a generous base of patchouli, sandalwood, vetiver and fumana.

Volume: 75 ml

Made in the UK

Glycerin, Stearic Acid, Aqua (Water), Potassium, Hydroxide, Myristic Acid, Sodium Hydroxide, Parfum (Frangarnce), (Parfum contains: Benzyl Benzoate, Eugenol, Citronellol, Benzyl Salicyůate, Geraniol, Linalool).

On the 1st of September 1854 Jeremiah Taylor, great-great-grandfather of the current proprietor of Taylor of Old Bond Street founded his own barbershop. He couldn't have possibly imagined that his herbal preparations would become a staple of quality for centuries to come and that his successors would keep perfecting them. Fun fact and something of a paradox about Taylor of Old Bond Street is that its shop is not even located on the Old Bond Street anymore, in 1930 it moved to the even more famous Jermyn Street.
Related products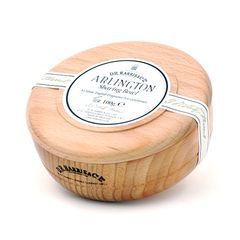 In Stock
29.90 €
In Stock
17.90 €