Mühle Travel Leatherbag with Mach 3 Razor and Shaving Brush
159.00 €
In Stock, delivery in 3-5 working days
Product added to bag
Free shipping for orders above 80 EUR.
20 000+ customers
30 days return policy
A tanned bovine leather case from small German tanneries, full of good things. You can even find a shaving razor there. German, minimalist, and nice – all metal parts are chrome-plated, replaceable head, modern – Gillette Mach 3 with three blades. 

And also a shaving brush made of synthetic fibers. Most users attribute to them features comparable to true badger bristles. Their principal advantages include lower fraying tendency and great properties when making the foam.

 

Germany is reputed for many things - punctuality being one of them. That is also one of the reasons why Mühle has been the leading German manufacturer of high quality grooming tools for men. Up till now they are handmade to perfection and will add a distinct air of perfection to your everyday grooming rituals.
Related products
In Stock
3.90 €
Recommended
In Stock
49.00 €
Recommended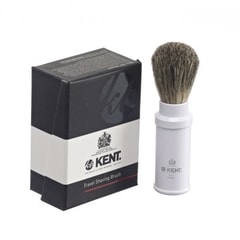 In Stock
59.00 €