Mühle Traditional Black Shaving Set - Closed-Comb Safety Razor, Silvertip Shaving Brush, Stand
159.00 €
Skladem, doručíme v úterý 22. 6.
Product added to bag
Free shipping for orders above 80 EUR.
20 000+ customers
90 days return policy
Precision German set for a precision shave in the classic design of the Traditional line. Set of three items, without a bowl, with handles made of polished black synthetic resin. It includes:

Shaving brush
From the most luxurious badger bristles of silvertip badger quality – the finest bristles, classic medium size. With the above-mentioned black resin handle and chrome plated metal details.
Shaving razor
With traditional closed head for blades – compared to an open head it's also suitable for beginners, tolerating even an unsure hand.
Elegant stand
Also chromium coated.

Made in Germany

Germany is reputed for many things - punctuality being one of them. That is also one of the reasons why Mühle has been the leading German manufacturer of high quality grooming tools for men. Up till now they are handmade to perfection and will add a distinct air of perfection to your everyday grooming rituals.
Related products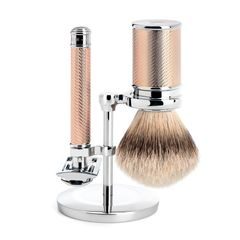 In Stock
159.00 €
In Stock
59.90 €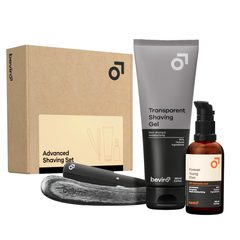 In Stock
58.00 €