Men's Society Beard Washing Kit
29.90 €
In Stock, delivery in 3-5 working days
Product added to bag
Free shipping for orders above 80 EUR.
20 000+ customers
30 days return policy
Everything for a beautiful and neat beard in one practical box. It includes:

Beard soap (50 ml)
Handmade, fully natural. Rough enough to wash, gentle enough not to irritate the skin. Plus it smells of vetiver and citrus.
Beard brush made of stainless steel
In the shape of a moustache. It speaks for itself.
Pocket face towels (5 pcs)
The most practical invention since the printing press. A towel of the thumb pad size. Turn hot water on, insert into the stream, spread and you are done. Then use it to cover your beard. The pores will open up nicely and they will absorb the oil much better.
Beard oil (10 ml)
Classic formula, natural, rich in vitamins and minerals, moisturizes the skin, softens the beard, cures skin irritation. It smells of woods and loose soils, so it can also act as an emergency cologne.

Made in the UK

Olej: Vitis Vinifera Seed Oil, Persea Gratissima Oil, Tocopherol, Zingiber Officinale Root Oil, Citrus Sinensis Peel Oil.

Men's Society is a London-based company founded by Hugo and Bella in 2012. These two lovebirds had met a few years before that in what they call "a very sensible corporate job". Soon after Hugo discovered Bella was really good at surprising him with small and unusual gifts. So good that they decided to start their own company. What a continuation of a romance that is!
Related products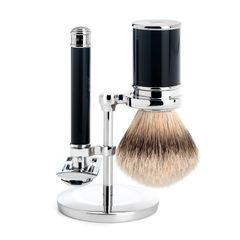 In Stock
159.00 €