Kent Shaving Soap in Light Beech Bowl (120 g)
34.90 €
In Stock, delivery in 3-5 working days
Product added to bag
Free shipping for orders above 80 EUR.
20 000+ customers
90 days return policy
Legendary English shaving soap by Kent considered the best of them all by many. It comes in a light beech wood bowl.

What is it good for?

To create a perfect lather and help you shave as smoothly as possible. Lathering it up requires some practice, but it makes your bathroom ritual ne of the most pleasant ways to start the day.

Its scent is quite soft, with fern, patchouli top notes and a heart of lavender, pine and cloves.

Why does it work?

Because it contains a large portion of hydrating and softening lanolin, that is basically a sheep wool juice that does magic for your skin.

How to use?

Well, just like our wise grandfathers taught us. Wet your shaving brush in hot water, ideally in a mug. Don't forget to leave a bit of water in the mug afterwards. In the meantime splash a few drops of hot water on the soap itself so that it softens a little, then brush it over with your brush in circular motions, create a perfect thick lather and shave well.

Soap weight: 120 g

Made in England

Sodium Tallowate, Potassium Sterate, Sodium Cocoate, Sodium Stearate, Aquapotassium Cocoate, Glycerine, Parfum, Alpha-isomethyl Ionone, Hexyl Cinnamal, Limonene, Linalool, Hydroxycitronellal, Lanolin, Titanium Dioxide, Sodium Chloride, Sodium Glucanate, Sodium Silicate, Tetrasodium EDTA, Magnesium Sulphate, Tetrasodium Etidronate.

Some companies boast of being on the market for 10 years and call it a tradition. Kent Brushes has been there for more than 200 years. This family-owned British company produces handmade combs and brushes of impeccable quality for a reasonable price. They source their bristles from reliable partners in India and China and their wood from sustainably grown forests all around the world.
Related products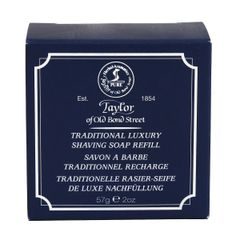 In Stock
10.90 €