Kent BLK8 Silvertip Badger Shaving Brush
119.00 €
Sold out, available in:

4 Weeks

Let me know me when it is available.
Product added to bag
Free shipping for orders above 80 EUR.
20 000+ customers
90 days return policy
Premium silvertip badger bristles, elegant black synthetic resin handle, classic Kent logo and a premium red case make this shaving brush the classic-size bestseller.

Silvertip bristles are carefully selected from a badger's neck area. They are not trimmed, they are naturally very delicate and of high quality. They can be used to comfortably apply the foam directly to the face; they don't scratch, they caress.

Total length: 11.2 cm
Bristle length: 5.7 cm
Diameter of the bristles: 2.6 cm 

Handmade in England

Do you need help selecting the right shaving brush? You can find some advice in this article.

Some companies boast of being on the market for 10 years and call it a tradition. Kent Brushes has been there for more than 200 years. This family-owned British company produces handmade combs and brushes of impeccable quality for a reasonable price. They source their bristles from reliable partners in India and China and their wood from sustainably grown forests all around the world.
Learn more about it:
Related products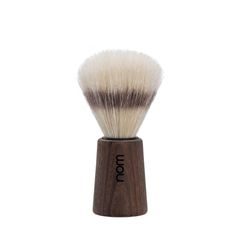 In Stock
10.90 €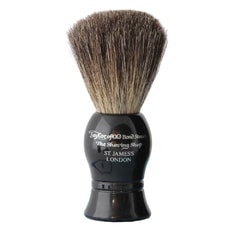 In Stock
39.00 €