Hawkins & Brimble Hair Shampoo & Pomade Gift Set
29.90 €
In Stock, delivery in 3-5 working days
Product added to bag
Free shipping for orders above 80 EUR.
20 000+ customers
90 days return policy
Handy gift set. It comes from the islands, it's made of natural ingredients, it's beautiful. It includes:

Hawkins & Brimble hair shampoo (250 ml)
Contains essential oils from exotic elemi and a little less exotic ginseng – you will appreciate both of it in the morning. Your hair and the skin underneath will appreciate the extract of ginger and a good portion of B5 provitamin.
Hawkins & Brimble hair grease (100 ml)
This water-based grease is suitable for a wide range of hairstyles and for dry or damp hair. Contains camellia oil of Japanese origin, which softens the hair, gives it a shine and fixes frayed hair ends. Then also coconut oil – it works as a natural conditioner.

Made in Great Britain

The story of Hawkins & Brimble began in 2016 when its founder Stephen Shortt noticed a lack of natural premium quality men's grooming and skincare products on the shelves of British stores. In addition, most of the products seemed to smell of mint or lemons. For what seemed like an eternity, Stephen went about creating products that he could use (and his wife when she steals them!), without harming his skin or smelling like a cheap lemonade.
Related products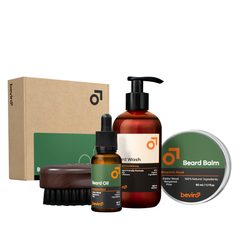 In Stock
66.00 €
New