Gentleman Store Shaving Gift Kit
39.00 €
Sold out, available in:

4 Weeks

Let me know me when it is available.
Product added to bag
Free shipping for orders above 80 EUR.
20 000+ customers
30 days return policy
We always wanted to offer a perfect shaving gift set for a perfect price, so we decided to create one. We have assembled it to suit a beginner and a pro alike, as well as guys with more sensitive skin.

Inside you will find:

Timor Safety Razor
A classic safety razor that is light and easy to use thanks to the indented handle. It is made of brass with a chrome finish. 
Derby Extra Super Stainless Razor Blades (5 pcs)
They allow some room for error and are gentle enough for sensitive skin.
nom GUSTAV Boar Bristle Shaving Brush
It has a traditional bulging handle made from slightly fluorescent plastic and of course the coarsest boar bristle that will give you a proper massage.
Proraso White Shaving Soap (150 ml)
A classic shaving soap that will help you create a thick lather in a second. It has a soft scent and contains a pinch of cooling menthol, as well as soothing green tea and oats extracts.
Proraso White After Shave Balm (25 ml)
Alcohol-free balm full of soothing ingredients, such as green tea and witch hazel extracts, hazelnut and almond oil and vitamin E. It combines the properties of a balm and a shaving cream - it nourishes and soothes the skin.

Our journey started in February 2014 with first plans having been laid out some six months before then. Back then we knew very well what we wanted to be: A safe haven for every modern gentleman who seeks the best products and service and will not settle for anything less.
Related products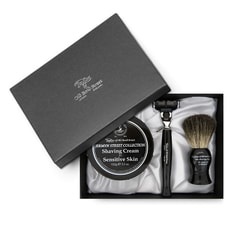 In Stock
119.90 €