Bluebeard's Revenge Pomade (100 ml)
9.90 €
13.90 €
In Stock, delivery in 3-5 working days
Product added to bag
Free shipping for orders above 80 EUR.
20 000+ customers
30 days return policy
We all have excuses why our hair can't look groomed. This pomade will put an end to it, because it will tame even the most stubborn hair. Holds strongly and shines a lot.

Volume: 100 ml

Product of the English brand Bluebeard's Revenge

Aqua, Cetearth 25, PEG-7 Glyceryl Cocoate, Monopropylene Glycol, PEG-40 Hydrogentated Castor Oil, Parfum, Phenoxyehtanol, Ethylhexylglycerin.

Is your beard too proud to tame? Try Bluebeard's Revenge - a progressive British brand that offers a range of men's shave, beard, hair, and body essentials, created to challenge the anonymity of mainstream brands.
Related products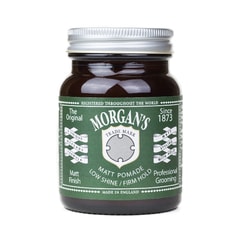 In Stock
13.90 €