Beviro Cinnamon Season Complete Beard Gift Set
66.00 €
Skladem, doručíme v neděli ne 11. 4.
Product added to bag
Free shipping for orders above 80 EUR.
20 000+ customers
90 days return policy
A larger gift set for every beardsman with our christmasy Cinnamon Season scent. It holds all one might possibly need to care for his beard - beard oil and balm for nourishment and styling, natural deep cleansing shampoo and a pear wood brush for untangling and a finishing touch. 

The Cinnamon Season scent combines tones of cinnamon, sandalwood and refreshing grapefruit. That means every day can be Christmas now, at least for your beard.

We packed it all in a recycled cardboard gift box and finished it with a discreet Beviro logo.

Gift set contains:

Made in Czech Republic by Beviro, a brand of natural cosmetics we are proud to co-own

Patrik Hamsik and Dan Trnka originally started out as manufacturers of natural cosmetics for men with sensitive skin. Back then they already frequented barbershops and offered some of their products to barbers who were very pleased both with the high-quality ingredients and impeccable performance. So they made the only logical decision: they re-focused on men's grooming and beard care. Given the fact that Patrik happens to be a chemist by profession they have the entire manufacturing process covered and the quality of their products only confirms that.
Related products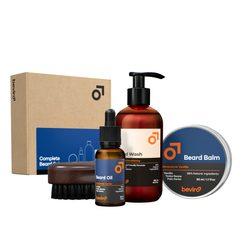 In Stock
66.00 €