Below The Belt Gift Box - Fresh (with boxer briefs)
16.00 €
Skladem, doručíme v neděli ne 1. 8.
Product added to bag
Free shipping for orders above 80 EUR.
20 000+ customers
90 days return policy
Thanks to Bellow The Belt gel with freshwater fragrance and comfortable boxer briefs, your nether regions will stay dry, fresh, and comfortable. Packaged in a handy gift box.

Below The Belt Grooming came to an astounding discovery a few years ago - there was not a single product available to combat the discomfort of perspiration and chafing in the "below the belt" area. Men were forced to use messy white talcum powder, some even resorted to spraying underarm deodorant down there!

This UK based company just couldn't stand by and watch a second longer. All of their products are dermatologically tested and what's more - they get the job done.
Nothing will improve a man's mood as much as a fresh lower deck. And because we're ahead in resolving this troublesome problem, we've prepared this gift set that will ensure everything stays as clean as the lobby of a five-star hotel.
Gentle composition for sensitive skin
Dermatologically tested
Contains essential oils
Clean freshwater scent
Be dry, comfortable and fragrant
The gift set includes:
Below The Belt Gel for Fresh & Dry Balls - Fresh (75 ml)
Something like an antiperspirant, except for the fact it works well on men's lower decks. Ball-o(h)-dorant, one might even say. This perfect helper ensures all-day comfort during sports, work and entertainment.
Bellow The Belt cotton boxer briefs (size M)
Comfortable boxer briefs in universal medium size.
Material: 95 % cotton, 5 % elastan
Made in Great Britain
Related products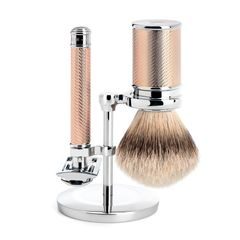 In Stock
159.00 €