Bellroy Coin Fold - Black
99.00 €
In Stock, delivery in 3-5 working days
Product added to bag
Free shipping for orders above 80 EUR.
20 000+ customers
30 days return policy
Universal wallet, which can hold everything, while still remaining as slim as a stick. For 8 cards, unfolded banknotes, with a SIM card pocket and a special coin pocket with a smart latch . 

Bellroy is a contemporary brand based in Melbourne, Australia. It puts its heart, soul and countless design hours into helping the world carry with greater simplicity and ease and has been doing so since 2010 when its very first wallet became available. Ever since then Bellroy focuses on its carrying mission, producing not only wallets but countless other high-quality and convenient products.
Universal wallet with fast access to coins, banknotes, and credit cards.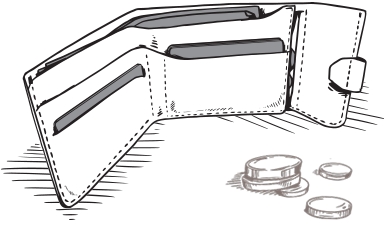 For all who want to have their valuables with them. Simply open the coin pocket, drop the coins into your palm and avoid unpleasant rummaging. The wallet is made of only 3 strips of leather, the latch at the back safely closes the coins that are placed side by side in order not to make the wallet too thick.
Read a review by our customer: